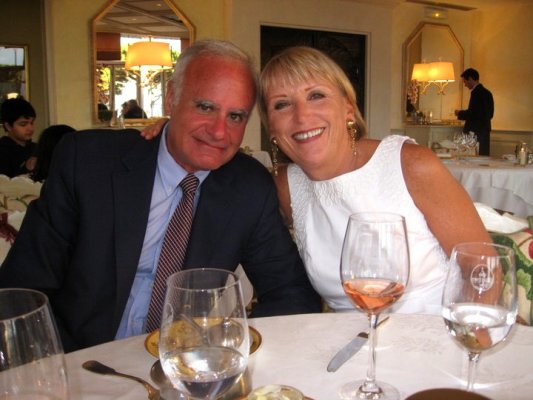 A loving wife, mother, daughter, sister, aunt, cousin, and friend, Robin's winning personality touched all who knew her.
A fabulous dresser who took her cues from Audrey Hepburn, Robin loved all things of beauty from flowers to crafts to clothes, museums and music, delicious foods, gorgeous landscapes and beautiful beaches. She loved to entertain and shop and shared her generous and optimistic nature with her extensive network of family, friends, coworkers, and customers.
Robin's love of reading and books seeded her long-time career in publishing. She began working for RR Donnelley as a sales rep in 1982 and spent the next 28 years there, the last ten covering HarperCollins, where she contributed toward the success and growth of that account. Many of her colleagues became close and dear friends.
Always one to celebrate life, Robin traveled extensively to and with her buddies in the US, France, Italy and the UK. In 2008 she met Peter Hirshfield, who became her constant companion, travel buddy, advocate and caregiver. They married in 2010 and together enjoyed their beautiful home and life together in Litchfield, CT and unflinchingly faced her illness hand in hand, heart in heart.
Accepting her September 2010 diagnosis with grace and determination, Robin took every opportunity to enjoy each living moment with those who loved her. Acknowledging that spirit and fight, Voices Against Brain Cancer honored her with their Courage Award in June 2012.
On January 21, 2013, Robin passed peacefully from our world. Her ever-present smile and optimistic nature will be celebrated, remembered, and greatly missed by many, but never forgotten.
Her family thanks you for your contribution toward the fight against this life-stealing disease.