Support Group for Caregivers and Family Members of Brain Tumor Patients
For those caring for Patients with Brain Cancer
The Gary Lichtenstein Memorial Grant
Please join us for a FREE support group for all caregivers and family members of brain tumor patients. In addition to support, the group provides practical and medical education from professional guest speakers. Members discuss side effects of treatment, how to properly handle emergency situations, nutrition, effective communication, and the emotions that caregivers and family members experience. Refreshments are also provided.
Where: NY Presbyterian Hospital/Weill Cornell Brain Tumor Center
525 East 68th Street (@ York Ave) – Room M218 (Take N Elevator to the 2nd Floor)
When: The 2nd Wednesday of every month. 6:30pm – 8:00pm
Upcoming Dates:
September 22, 2014
October 13, 2014
November 10, 2014
December 8, 2014
Note: Registration is required. To register, please contact:
Tina Sapienza, LMSW, OSW-C at 212-305-5274
Tina Sapienza has been a licensed social worker with a certificate in oncology practice for more than 20 years. For the past 6 years she has been the oncology social worker in the Brain Tumor Center, NYP/Columbia. In this capacity she has worked as part of the multi-disciplinary team which includes medical oncologists, nurses, nutritionists and research coordinators with a diverse population of newly diagnosed brain tumor patients and their caregivers. Ms Sapienza is responsible for psycho-social assessments, supportive counseling for patients and family members, facilitating support groups, and referrals to community programs.Read Tina's Full Bio by Clicking Here
Office: 212-305-5274
Cell: 646-419-0245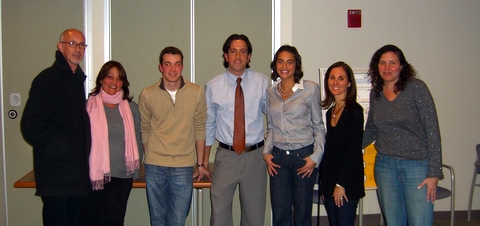 In this photo: participants of the caregiver support group
"The VABC support group has been a great resource for me – it is a place where everyone, sadly, speaks the same language and where you know your feelings of sadness and hope are truly understood. I valuemy time at the support group and every time I leave, I leave with greater insight about how much this disease affects not only the patient but those loving and caring for them."
-Marla Wasserman, caregiver to her husband with brain cancer
Support group participant
More information about the group:
A brain tumor is a unique form of cancer in that it can cause both cognitive and physical disabilities. Patients suffering from brain cancer will often experience seizures, confusion, memory loss, personality changes, difficulty with balance, loss of hearing, vision, or speech, and the loss of sensation in limbs. As a result, caregivers are often faced with the daunting task of both caring for their loved ones and dealing with the enormous emotional toll caused by watching their family members cope with the disabilities and the effects of the treatment.
Many psychosocial research studies have shown that as a result of having to meet all of the patient's emotional, medical, nursing, financial and day-to-day needs, caregivers often become emotionally and physically exhausted, leaving them more vulnerable to depression and anxiety. Given the profound physical, emotional and social impact this illness has on the caregiver, the need for psychosocial support has been clearly documented.
Moreover, the physical toll of caring for a loved-one can be enormous. Caregivers often have to aid their loved-ones when they fall and help push them in wheelchairs when they can no longer walk. Aside from the clear emotional drain that this can have on the caregiver, it can also cause physical trauma.
In response to this, Voices Against Brain Cancer, in conjunction with the American Cancer Society, has created a support group that provides the caregivers with the safe and comforting environment to relieve some of their emotional tension by sharing their experiences, fears, and anxieties with others. In addition, caregivers also have the opportunity to learn both practical and medical information, which would help to reduce the anxiety associated with an uncertain future.
The group will discuss the side effects of treatment, tips for caring for a loved one, how to properly handle emergency situations such as seizures, nutrition, methods for effectively communicating with physicians, legal issues that arise from the illness, and the wide range of emotions that caregivers and family members experience. This support group for family members and caregivers will not only improve the well-being of those attending the group, but also the loved ones being cared for.
The support group is facilitated by Tina Sapienza, a Licensed Medical Social Worker with experience in oncology and facilitating support groups. The group is open to ANY AND ALL caregivers and family members of patients battling brain cancer that are living in the New York Metro Area. However, this group services only caregivers and family members, and NOT brain tumor patients.
The group will not endorse any hospital. However, it will work with, and be affiliated with, all New York City hospitals in order to provide support for all New Yorkers.